Study Tours
EO Tour 2015
A group of five grower group Executive Officers toured Victoria and South Australia in June to gain an insight into how large grower groups function, as well as investigating the nature of grower group networks in each state. Throughout the tour there were opportunities to engage with staff, executive and members of these groups and in turn developed strong national links.
The tour sought to engage with Victorian grower groups and key partners, in order to:
Understand how groups and organisations work together to create greater value for the industry
Share grower groups models (including financial, research and extension frameworks)
Seek to develop better collaboration framework for grower groups in national projects
Participants were required to produce a report on their experiences to be presented to their relevant groups, which will be used by the GGA to develop a case study book 'the business of running a grower group' that will be distributed nationally.
To view the press release relating to the tour click here.
Grower Group Staff Tour 2012
The GGA Staff Tour took place from 5th to 7th November involving staff from Liebe Group, Facey Group, Southern DIRT, Evergreen Farming, North Stirlings Pallinup Natural Resources (NSPNR) and Fitzgerald Biosphere Group (FBG).
The role of staff in a grower group is incomparable to any other role in the agricultural industry, and the GGA offers these activities to staff to help build new relationships, understand different group structures and give staff the confidence to use the GGA network for advice and support when needed.
The trip objectives were addressed by visiting four grower groups; allowing new staff, most who had been in positions less than 12 months, to liaise with experienced staff; and building a peer group where staff could learn from each other about group operations, event planning, memberships and much more.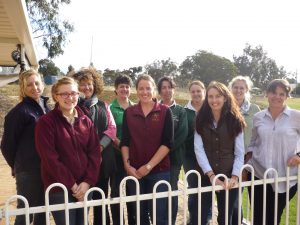 SA/Vic Study Tour 2011
No matter the rainfall, soil type or style of management, farmers are farming to the best to their environment.
This was the take home message from the Grower Group Alliance study tour, taking 10 growers from 10 different grower groups to see new innovations in farming and a variety of resilient systems across South Australia and Victoria, in September 2011.
Seeing different perspectives from producers on how to improve productivity or cutting costs has sparked new ideas for the tour group to take home and trial within their own group, with low seeding rates, crop topping in wheat, trialling spreaders and other innovative machinery and grazing crops among the ideas the group collected.