What is a Grower Group?
WA grower groups (also known as farming systems groups) are usually incorporated, not-for-profit organisations which generally aim to increase the production and profitability of their members farm businesses through the adoption of new production technologies, and delivery of locally relevant research, development and extension, while providing a social hub supporting participatory research and farmer-to-farmer learning.
Grower groups are farmer-centred and volunteer-driven by motivated and leading growers and community members. They are all about what growers want, adding value to their farm businesses, their natural resources, their communities and their social capital. They encourage and foster a culture of two-way information sharing.
Groups have built a reputation and established themselves on the basis of their outputs, services and relevance to their members and communities, and believe strongly in maintaining these by delivering outcomes. They look to partner and collaborate with appropriate organisations and stakeholders, with the continuing motivation of finding solutions. Grower groups look at the right information, the right solutions, the right producers and the right time.
Value Proposition of Grower Groups
– They are independent, farmer driven and managed organisations that deliver locally relevant RD&E to members. They do this by combining farmer, science and industry input to ensure relevance and rigor
– They play a critical role in agricultural industry with strong membership and connection direct to farmers. Their continual contact with growers and industry enables them to identify emerging issues quickly and cost effectively, which is crucial for strategic and tactical investment decisions
– They are well networked organisations with the ability to work with multiple stakeholders (government, RDC's, researchers, corporate agribusiness) to deliver outcomes to members
– They are a central point of contact for their farming regions, and provide an avenue for information sharing both within and beyond their regions
– They fill research gaps with the flexibility to deliver their own RD&E that doesn't fit into state and national funding priorities
– They are a trusted information source and contributor to agricultural RD&E
– Their reputation is built on relationships, relevance and their unique position as an adoption support agent (not driven by sales or commercial structures)
– They accelerate local adoption by having the capacity to adapt practices and innovations to suit local conditions on-farm
– They have the flexibility to be able to match and adapt learning styles and experiences to farmer member needs, and deliver outcomes 'just in time' rather than 'just in case'
– They provide great opportunities for growers to share ideas and experience (effective peer to peer learning styles)
– They provide a social hub for community well-being and development, including being the go to organisations in times of crisis (ie fire & drought) and play a role in supporting farmer mental health
Grower Group Landscape Western Australia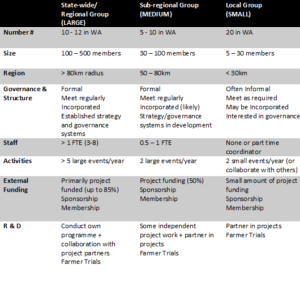 National Level Groups eg. Birchip Cropping Group; have own equipment, do contracting, have 20 plus staff