Welcome to New GGA Team Members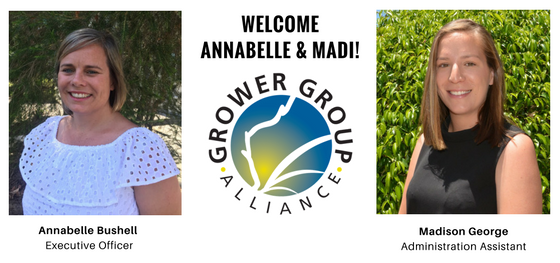 The Grower Group Alliance (GGA) begins 2017 with the appointment of Annabelle Bushell into the newly created role of Executive Officer.
Working alongside Sarah Houston who has stepped into the GGA Project Leader role, Annabelle will be a key driver in securing a sustainable future for the GGA by 2019 while continuing the effective and valued work the Alliance continues to provide to its members.
Bringing more than 15 years of experience from the agricultural and natural resource management sectors from across Australia, Annabelle's career has been underpinned by strong collaboration and partnerships from a diverse range of stakeholders, industry, and government as well as a Masters in local food production systems in Europe.
Click here to view the full media release on the announcement of Annabelle's position.
The GGA also appointed Madison George in the position of Administration Assistant in December 2016. Madi is currently studying her Master of Science in Dryland Agricultural Systems and is a great asset to our team, providing operational support and all round assistance to the GGA.
Annabelle and Madi are looking forward to connecting with the grower group network across the state over the coming months. Please make them feel welcome and feel free to contact Annabelle on T: 0427 992 945 , E: abushell@gga.org.au, and Madi on T: (08) 6180 5759, E: admin@gga.org.au.