Stirling to Coast Farmers
Description
Stirlings to Coast Farmers (SCF) was formed in early 2009 and covers an area from Frankland in the west to Wellstead in the east, and south of the Stirling Ranges. The majority of the 180 members are from broad acre, mixed farming enterprises.
The SCF Strategic Plan was reviewed in 2016 with the aim to develop the capacity of the group and widen the range of benefits for SCF members. The core business of SCF remains to deliver credible, relevant research and information to members. Members have developed good relationships with researchers from the Department of Primary Industries and Regional Development (DPIRD) Albany office and work with DPIRD on several projects. SCF currently employs several staff, including a Chief Executive officer, R&D Coordinator, R&D Consultant, Communications Officer, Project Officers, Finance Officer and an Office Manager.
SCF holds several events each year, including a spring field day, crop updates, livestock event, machinery demonstrations, field walks and half day workshops on relevant issues as required.
Current Activities
Grain/sheep Co-operative feasibility projects
Dual purpose wheat project
Noodle wheat project
MLA Producer demonstration sites – eID tags
Nil disturbance trial
Deep ripping and amelioration trials
eConnect workshops
Snails and slugs control method trials

 
Past Activities and Accomplishments
Steadily increasing membership and activity since formation in 2009.
Successful lobbying of local and state Govt in support of GM crops.
Successful delivery of extensive field trials, research updates, field days, workshops, paddock walks and other events across the region
Securing GRDC, R4R, MLA and other funding for grower driven projects
Establishing good relationships with researchers – DAFWA and private
Opportunities for growers to get together and share information/support each other
Established SCF Board in 2016, with four staff, including a fulltime Executive Officer Sub committees – R&D, Finance, Commodities, Events West and Events East groups
Sponsors
Steadily increasing membership and activity since formation in 2009.
Successful lobbying of local and state Govt in support of GM crops.
Successful delivery of extensive field trials, research updates, field days, workshops, paddock walks and other events across the region
Securing GRDC, R4R, MLA and other funding for grower driven projects
Establishing good relationships with researchers – DPIRD and private
Opportunities for growers to get together and share information/support each other
Established SCF Board in 2016, with four staff, including a fulltime Executive Officer
Sub committees – R&D, Finance and Governance, Commodities, West and East groups
Stirling to Coast Farmers
LOT 4641 Woogenellup Road, Woogenellup WA 6324, Australia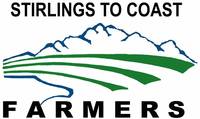 Committee
Group Contact: Christine Kershaw
T: 9842 6653
M: 0429 236 729
E: ceo@scfarmers.org.au
Chair: Derek Curwen
T:  6854 3012
M: 0428 543 012
E: kimderek2@gmail.com
Number of Members
80 farming businesses
Shires Covered
Plantagenet, Albany, Cranbrook, Denmark